VR Art
As an artist, VR Art created an incredible opportunity when it came to designing my art work within a 3D space. Whilst Maya is more of a modelling software, Openbrush is a collaborative tool designed with both 2D and 3D art in mind.
I experimented with Openbrush by creating a small diorama, using different paint brushes and techniques to create a 2.5D experience. Due to technical difficulties regarding the VR screenshots, I wasn't able to document my process in a traditional sense. Therefore, I'll describe my workflow.
To start off with, I used different thick and oil brushes to map out the whirlpool at the bottom of the diorama, using dark and light blues to add shadows and highlights. I made a tornade-esque spiral pattern to help map out the area I wanted to work in. Despite this area being small, it means that I could contain this diorama into a small section and could expand on it's design / world by adding more in the future.
For now, I continued this spiral visual motif, moving up to the top. The process for this was inspired by spruce trees with the lines serving as the main focus of the diorama. To imagine this from a user's perspective, the user would start from the bottom of the diorama and work their way to the top, being a more linear approach when handling the VR space.
I continued to add darker shades of colour to add depth to the piece, as well as adding different highlights of complimentary hues such as purple or navy. The bright colours contrast with the dark background help amplify these cooler but vibrant colour schemes.
As shown in the screenshots, the main theme of this diorama is the ocean. But I also wanted to add further colour contrast to the piece. Therefore I added jellyfish into the scene to further guide the user through the diorama.
One thing that I found when creating these jellyfish was the issue of the lack of depth – often being as flat as paper. I was able to combat this issue, however, by adding movement to each of the jellyfish, making them curve around diorama using the highlighter tool.
Once I finally finished adding in the jellyfish, I experimented with extra effects and brushes such as the flower brush and the star effects to further entice the user around the diorama, giving the environment some light whilst also working with 3D Meshes.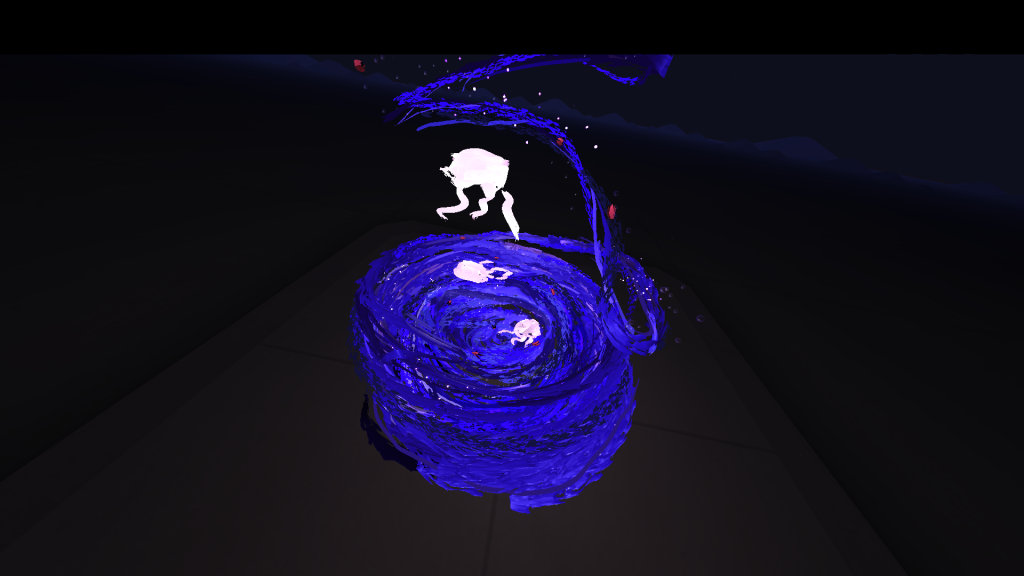 In conclusion, Openbrush was my favourite software to experiment with, not only for it's artistic capabilities but also working within a 3D VR space for the first time. It allowed me to naturally produce art whilst being able to adjust it in Maya later on. It also allowed to me to freely explore my artistic capabilities without being restricted to a singular canvas and with the effects, it only enhances that experience, being able to create beautiful pieces.
In terms of concept art and storyboarding, Openbrush is the best option for me to use purely because I'm able to work in a 3D artistic space, making sure that the environments I create are user friendly and can be accessible to a wide range of playtesters.
As previously mentioned, storyboarding in Openbrush is also beneficial due to it's lack of restrictions especially when I jumped from a 2D canvas initially.
This also means it's easier to create 360 experiences, when working within the player's perspective. Therefore for my larger project (Especially as a manga artist), I'd like to use this alongside MASH networks to create scripted events – these two mediums being mixed together would allow me to make a 2D and 3D world, the main hook for my project's storytelling and environment.